September 5, 2017
Control Company Launches WI-FI Connected TraceableLIVE® Thermometer
Monitor controlled environments from the cloud with remote notifications.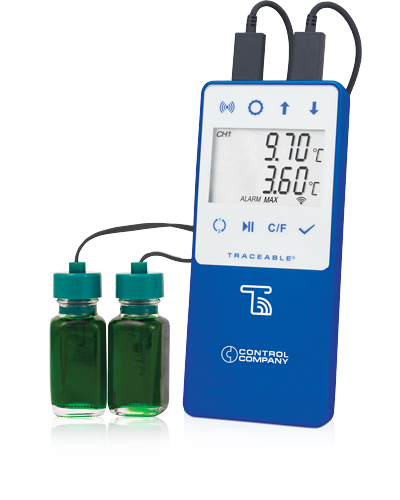 Webster, TX, July 6, 2017 — Control Company announced today TraceableLIVE®, the first Traceable®-branded device to monitor critical, controlled environments remotely from the cloud. The TraceableLIVE® 6500 Wireless Datalogger eliminates the need for manual data recording or the need for a physical presence in the lab. This is a significant development in improving the accuracy of monitoring and reporting of controlled environments used for storing vaccines, reagents, diagnostics and lab specimens.
TraceableLIVE® is the first digital, Wi-Fi thermometer for use in critical environments requiring a controlled atmosphere such as labs, refrigerators and freezers. It enables personnel to stay connected and receive real-time alerts about changes in their environments as well as provides electronic reporting, thus eliminating human error that can occur in manual monitoring and reporting. In 2015, there were 30,000 cases in Florida alone where vaccines were considered spoiled because of inaccurate reporting and monitoring.
"Traceable LIVE® ensures the integrity of lab and point of care storage environments by notifying users immediately when an alarm parameter is breached via email, text message and push notifications," said Mike Blazes, CEO of Control Company. "Utilizing direct input from accrediting organizations, lab technicians, medical personnel and other key influencers, we developed a simple and cost-effective solution to meet the key requirements of our users."
"Traceable LIVE® products continuously monitor the temperature, humidity, barometric pressure and CO2 of crucial environments and are capable of electronically alerting users regardless of their physical location."

About TraceableLive
Using TraceableLIVE® devices with the app on a smartphone or tablet, or logging into an account by visiting www.traceablelive.com via any browser, users are able to:
View current temperature, humidity, barometric pressure and CO2 readings
Receive Alarm event notifications and control alarm parameters
View data logging history
Generate and E-mail reports, including specific VFC reports
Give other team members access to specific devices or groups of devices.
TraceableLIVE® also allows a user to create a permanent, digital check record to facilitate compliance with CDC, CAP, CLIA, Joint Commission, ISO and cGMP guidelines. In addition, users can run simultaneous reports for multiple devices and locations.
"In recent years, the integrity of vaccine storage has become questionable; as a result, standard of care has likely suffered as vaccines have potentially been compromised. In response to this, we created a simple monitoring tool and interface for Immunization Managers and VFC providers, built on the reliable platform of Traceable® thermometers, which millions of providers have trusted over the past four decades." said Blazes. "With additional standard reporting, we are able to further simplify monthly VFC reporting and keep vaccine storage safer."
About Control Company
Established in 1974, Control Company has been a leader in the industry providing measurement devices off-the-shelf with ISO/IEC 17025 calibrations accredited by A2LA and being accredited ISO 9001 by DNV GL. Control Company is also one of the first to have ISO Guide 34 certified reference materials for conductivity standards and to introduce the first digital timer, first digital stopwatch, first digital thermometer and first digital hygrometer for the laboratory environment. At Control Company, we measure the conditions that matter, providing the continuum of Traceable® Excursion-Trac™, Memory-Loc™ products, and TraceableLIVE® services, and SAAS to the healthcare and regulated manufacturing pioneers who are developing therapies, bringing them to the world and providing the safest and most effective care possible.